THE JET AWARD IS THE FIRST TO HONOR THE MOST ELECTRIFYING PLAY IN FOOTBALL
PREVIOUS JET AWARD & LEGACy AWARD WINNERs
2015 Christian McCaffrey Jet Award Stanford
2014 Tyler Lockett Jet Award KSU
2013 Ty Montgomery Jet Award Stanford
2012 Tavon Austin Jet Award WVU
2011 Joe Adams Jet Award UA
2016 Rick Upchurch Legacy Award Minnesota
2015 Joe Washington Legacy Award OU
2014 Paul Allen Legacy Award BYU
2013 Pat Fischer Legacy Award UNL
2012 Billy Cannon Legacy Award LSU
2015 AWARD WINNER CHRISTIAN MCCAFFREY
2014 HIGHLIGHTSMcCaffrey played in all 13 games as a true freshman at Stanford in 2014. He finished the year with 300 rushing yards on 42 carries and 251 receiving yards on 17 receptions with two total touchdowns. 2015 HIGHLIGHTSMcCaffrey had a breakout sophomore season in 2015. He broke Barry Sanders' NCAA record of 3,250 all-purpose yards, finishing with 3,864. He ranked second in the nation with 2,019 rushing yards, becoming the first Stanford player to rush for 2,000 in a season. He also set numerous other Stanford records during the season including rushing yards in a game (243) and all-purpose yards in a game (461) McCaffrey was a consensus All-American and was the Associated Press College Football Player of the Year, Pac-12 Player of the Year and Paul Hornung Award winner. He also finished second to Derrick Henry in the 2015 Heisman Trophy voting. During the 2016 Rose Bowl, McCaffrey became the first player to rush for 100 yards (172) and have 100 yards receiving (109) in a Rose Bowl game. Overall he had a Rose Bowl record 368 yards of total offense, breaking the record previously held by Wisconsin's Jared Abbreder is set in 2012.
2014 JET AWARD WINNER TYLER LOCKETT
One of the top wide receivers and all-purpose players in school history who is Kansas State's first four-year All-American... Also one of just three players in school history to earn all-conference honors all four years... Set 17 school records, including the career marks for receptions, receiving yards, receiving touchdowns, 100-yard receiving games, kickoff-return attempts and kickoff-return yards... Topped his father, Kevin, for the school's career receptions, yards and touchdown records... Also ranked second in receptions per game (5.30), receiving yards per game (78.9), all-purpose yards (6,586) and kickoff-return average, fourth in all-purpose yards per game (140.1) and punt- return average, eighth in points (212) and ninth in punt-return yards... Also ranks highly in Big 12 history for a career as he tied the league record for kickoff-return average, ranks third in all-purpose yards and kickoff-return touchdowns, fifth in receiving yards and kickoff-return yards, seventh in receptions and tied for 10th in kickoff-return attempts. K-State Wildcats Bio Career Honors 2014Consensus All-American [all-purpose/kick returner]First Team All-American [all-purpose] (CBSSports.com)First Team All-American [pr] (Athlon)Second Team All-American [wr/kr] (Walter Camp)Second Team All-American [wr] (USA Today)Second Team All-American [pr] (CBSSports.com)Biletnikoff Award SemifinalistBig 12 Special Teams Player of the Year (Coaches)First Team All-Big 12 [wr/kr] (Coaches)First Team All-Big 12 [wr] (Associated Press)Second Team All-Big 12 [all-purpose] (Associated PressHonorable Mention Big 12 Off. Player of the Year (Coaches)Big 12 Special Teams Player of the Week (UTEP, WVU)Campbell Trophy Finalist • Senior CLASS Award FinalistBig 12 Scholar-Athlete of the YearMaxwell Award watch listWalter Camp Award watch listHornung Award watch list
2013 JET AWARD WINNER TY MONTGOMERY
Is an American football wide receiver and return specialist for the Stanford Cardinal. College career As a junior in 2013, Montgomery was a consensus All-American as a return specialist. He led the nation with a 31.2 kickoff return average and scored two touchdowns. Stanford Cardinal BioAs a Junior (2013)First nationally with 31.2 kickoff return yards/gameTied for second nationally with two kickoff returns for touchdownsNinth nationally with 161.0 all-purpose yards/game10 games with 100+ all-purpose yardsConsensus All-AmericanWalter Camp All-America first team (kick returner)AFCA All-America first team (kick returner)FWAA All-America first team (kick returner)Sporting News All-America first team (kick returner)Associated Press All-America second team (all-purpose)USA Today All-America first team (kick returner)SI.com All-America first team (kick returner)CBSSports.com All-America first team (kick returner)CBSSports.com All-America third team (all-purpose)Athlon Sports All-America first team (kick returner)Athlon Sports All-Pac-12 first team (kick returner)Athlon Sports All-Pac-12 second team (wide receiver)ESPN.com All-Pac-12 (kick returner)Sporting News All-Pac-12 (kick returner)All-Pac-12 first team (kick returner)All-Pac-12 second team (wide receiver)Stanford's Most Outstanding Junior Award (Gundelach Award)Stanford's Big Game Back Award (Frank Rehm Award)
2012 JET AWARD WINNER TAVON AUSTIN
When one watches Tavon Austin on the football field, the terms gifted, talented and jaw dropping are just some of the words that come to mind. However, if you were to ask Austin about the aptitude that he displays on the football field, you are most likely to receive few words from the extremely soft-spoken Baltimore native. For Austin, his actions speak louder than words – painting a masterpiece that has earned him the right to win this year's "Jet Award." During his junior season in 2011, Austin led the nation in all-purpose yardage as he averaged 198 yards per game. He was an All-American First Team Return Specialist by CBSSports.com, Phil Steele and named to the third team by the Associated Press. He finished the season with 101 catches, a West Virginia University single-season record and was one of two receivers to have 100 or more catches in Big East history. Not only did Austin raise the bar during the 2012 season, he proved himself to be the nation's most versatile player by contributing at inside receiver, running back, Austin piled up 2,760 all-purpose yards in 2012, averaging 223.0 per outing. He finished with 72 carries for 643 yards and three touchdowns, 114 receptions for 1,289 yards and 12 touchdowns. In addition, Austin was the first player in school history to score four different ways. Furthermore, he finished his career with the Mountaineers as the program's career leader in receptions, receiving yards, kick return yards and kick return touchdowns. Included in that total is Austin's game against Oklahoma on November 7th, in which he transitioned to running back seamlessly during the week, set a WVU record with 344 rushing yards and accumulated 572 all-purpose yards – the second most in a single game in FBS history. Iowa State coach Paul Rhoades said, "You don't do that against the University of Oklahoma. You just don't do that. He's a very, very special player." Due to Austin's overall excellence on the field during the 2012 season, he earned All-American honors from several authorities. These included such media icons as Sports Illustrated, Associated Press and the American Football Coaches Association. Additionally he received the College Football Performance Award as the 2012 All-Purpose Performer of the Year. He went on to win college football's most versatile player award
2011 JET AWARD WINNER JOE ADAMS
CAREER SUMMARY: Adams enters the 2011 season ranked ninth on Arkansas' all-time career touchdown receptions list with 14, 11th on the Razorbacks' all-time career receptions list with 110 and 12th on UA's all-time career receiving yards list with 1,758. He has an active streak of 34 consecutive games with at least one reception, covering every game of his Arkansas career, which is the longest active in the SEC and fifth- longest active streak in the NCAA. His five career 100-yard receiving games are tied for the most among 2011 Razorbacks and fourth all-time at Arkansas. 2010: He started four games while appearing in 12, missing only the Vanderbilt game due to an injury. He led the team with a career-high 813 receiving yards and tied for the team lead with six receiving touchdowns. He ranked second among Razorbacks with a career-high 50 receptions, which tied for the ninth-highest single-season total in school history. Adams also ranked second on the team with his average of 96.4 all-purpose yards per game. He ranked second in the SEC and tied for 28th in the NCAA with an average of 15.2 yards per play. Adams finished the season ranked sixth in the SEC with 4.2 receptions per game and seventh in the conference with 67.8 receiving yards per game. He ranked second in the SEC and fifth in the NCAA with an average of 15.56 yards per punt return, the seventh-highest single-season average in school history. His three 100-yard receiving games tied for fifth in the SEC and tied for the fifth-highest single-season total in school history. He tied for seventh in the NCAA with 32 receptions against ranked opponents and was 11th in the country with 403 receiving yards against ranked foes. His 23 receptions of at least 15 yards tied for fifth in the SEC. Adams broke the Arkansas record for longest punt return for a touchdown when he returned a punt 97 yards for a score, tied for the fifth-longest punt return in SEC history, in UA's 38-24 victory vs. Ole Miss. The score was his first career punt return for a touchdown and bettered the previous record of 95 yards set by Ken Hatfield vs. Tulsa in 1963. Adams was named SEC Special Teams Player of the Week following his record-breaking return, which was the largest portion of his 120 yards on three punt returns, the fifth-highest single-game punt return yardage total in school history. He also made two receptions for 49 yards against the Rebels. His career-high nine receptions vs. No. 6 Ohio State in the Allstate Sugar Bowl are tied for the 10th-highest single-game total in school history. Against the Buckeyes, he collected 120 yards and one touchdown on those nine catches. He was the only receiver to have a 100-yard game against the Buckeyes during the 2010 season, and his 120 receiving yards were the most the Ohio State defense had allowed since Oct. 17, 2009. He opened the season with a career-high 138 receiving yards and two touchdowns, including a career-long 85-yard reception, on six catches in Arkansas' 44-3 win vs. Tennessee Tech. His other 100-yard receiving game came in the Razorbacks' 31-24 win at Georgia, where he piled up 130 receiving yards on six catches. He collected 158 all-purpose yards in UA's 31-7 victory vs. ULM, courtesy of 76 yards on three receptions and five punt returns for a total of 82 yards. Against No. 1 Alabama, Adams made four receptions for 45 yards and carried the ball once for four yards. He caught two passes for 19 yards and one touchdown while also returning two kickoffs for a total of 26 yards in UA's 24-17 victory vs. Texas A&M. He caught a then-career-high- tying seven passes for 87 yards and one touchdown while also rushing once for 12 yards and returning two kickoffs for a total of 37 yards at No. 7 Auburn. Adams recorded three catches for 27 yards in the Razorbacks' 41-20 win at No. 18 South Carolina, then the next week contributed two punt returns for 40 yards, one 17-yard reception and one rush for three yards in a 58-21 Arkansas win vs. UTEP. He had 45 yards on four receptions and one four-yard rush in Arkansas' 38-31 double-overtime win at No. 22 Mississippi State. Adams caught three passes for 60 yards, including a 39- yard touchdown on 4th-and-3 with the Razorbacks holding a one-point lead in the fourth quarter, in Arkansas' 31-23 win vs. No. 6 LSU. 2009: Adams played in 10 games and started in seven as he missed the Auburn, Florida and Ole Miss games due to a medical condition. He was a second-team All-SEC selection by the AP. He finished ninth in the SEC and 95th nationally in receiving yards per game (56.8). He was one of 11 players in the SEC to have multiple 100-yard receiving games in 2009 with two. He was third on the Razorback roster in receiving yards with 568 and fourth in catches with 29. He was tied with Greg Childs for the team lead in touchdown receptions (7) and was second among all receivers in average yards per catch (19.6). He averaged 21.9 yards per catch in the first quarter of all games combined, which led the SEC. Six of his receiving touchdowns came in home games, which tied for 11th nationally. He had a touchdown in seven of 10 games he played in. Against Missouri State in the season opener, he had a then-career-long catch of 40 yards for a touchdown. Adams led Arkansas in receiving for the second straight game against Texas A&M with his first 100-yard receiving game of his career. He had just three catches and accounted for 110 yards in the contest. He returned to action to lead the Razorbacks in receiving with the second 100-yard game of his career against Eastern Michigan, which included a career-best two touchdowns and a season-long 78-yard touchdown catch. Adams ran for his first rushing touchdown against South Carolina on an 18-yard run around the right side. He led Arkansas receivers in receiving yards against Troy with 74 over four catches with a touchdown. Against No. 17 LSU, he ended the regular season with two catches for 13 yards. He gave the Razorbacks a 30-27 lead with his 14-yard touchdown catch late in the fourth quarter. Adams was named the Paul Eells Award winner by the Little Rock Touchdown Club for his efforts during his sophomore season. 2008: Adams appeared in all 12 games in 2008 and started in seven. He finished third on the team in receptions with 31 for 377 yards and a touchdown. He was one of two Razorbacks to have a catch in each game in 2008. In Arkansas' three fourth-quarter game-winning drives, he was thrown to four times and had four catches for 29 yards (1- WIU, 2-ULM, 1-LSU). Adams was named SEC Freshman of the Week on Sept. 8 for his performance against ULM. He finished with a then-career-high seven catches for 89 yards and had one run for nine yards. His seven catches against ULM were the most by a Razorback since 2007. He had a season-long catch of 33 yards in the ULM win. Adams threw his first career touchdown pass against Auburn, a six-yard pass to Casey Dick. He scored Arkansas' first touchdown of the 2008 season, a 10-yard pass from Casey Dick during the second quarter of the Western Illinois game. He made two catches for 29 yards against Texas including one for 18 yards and a first down. Adams grabbed five catches for 68 yards against Florida, including four first downs. He also had a 16-yard rush against Florida. In the Auburn victory, Adams made a key tackle on an interception to save a touchdown. Auburn ended up with only a field goal on the drive. He made two catches for 24 yards in the Kentucky game, including one for a first down. He had one reception for 23 yards and a first down against Ole Miss and also carried the ball one time for a loss of seven yards. Adams accounted for three catches and a first down against Tulsa with a long reception of 21 yards in the first quarter, which eventually led to a touchdown. He continued his streak of games with a reception against Mississippi State, making one for four yards. He also had one rush for a career-long 19 yards in the game. He made one catch for four yards against LSU. HIGH SCHOOL: Adams racked up 80 tackles, including 29 assisted stops and 10 tackles for loss, for Central Arkansas Christian as a senior. He was named to the Arkansas Democrat-Gazette All-Arkansas team and the Associated Press Super Team after tallying 15 pass breakups and five interceptions for 187 yards while playing cornerback and safety. He returned one interception for a 77-yard touchdown. He also earned four sacks, while earning one forced fumble and one fumble recovery. He earned 742 rushing yards and 18 touchdowns rushing. He caught 33 passes for 770 yards and racked up 435 yards in return yardage as a senior. He also threw for a pair of touchdowns. He had a total of 25 touchdowns on the season. In his junior season, he rushed 75 times for 857 yards and 14 touchdowns. He caught 29 passes for 633 yards and nine touchdowns. He averaged 21.8 yards per catch. As a sophomore, he tallied five interceptions. He was a member of the Rivals 250 and was ranked as the No. 2 prospect in the state by the same outlet. Hawgs Illustrated ranked him as the No. 2 prospect in Arkansas while Scout.com ranked him as the No. 8 cornerback in the nation. He was ranked as the No. 12 cornerback by Rivals and the No. 4 prospect in Arkansas by HawgSports.com. He was also recruited by Southern California, Clemson, Georgia, Texas A&M, Oklahoma and Florida. PERSONAL: Born Nov. 22, 1989, he is the son of Charlotte Allman. He is majoring in criminal justice and sociology.
One of the most prolific running backs in Sooner history, Joe Washington answered the call for his alma mater once again, returning to Norman to serve as special assistant to the director of athletics/executive director of the Varsity O Association in May 2007. Washington, who ended his Sooner career as the all-time leading rusher in school history, returned to Norman after living and working in the Washington, D.C. area for a number of years. In his position with the department, Washington will lead the efforts to reconnect the department with its former student-athletes as OU begins a number of outreach efforts. He also will have other administrative duties. Washington's Sooner career was a record-setter. He finished with 4,071 yards rushing and was a consensus All-American in 1974. He finished third in the Heisman Trophy voting that year after helping the Sooners win a national title. He was named the NCAA Football Player of the Year and the Washington, D.C., Player of the Year in 1974. After helping OU win another national title in 1975, Washington again earned All-America honors and finished fifth in Heisman voting.​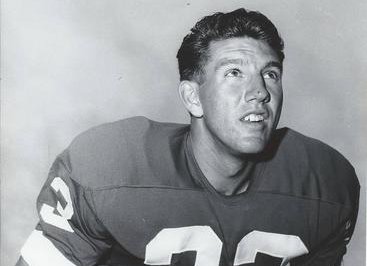 2014 LEGACY AWARD WINNER PAUL ALLEN
There was a time in life when horses were so valuable and so much respected that to steal one or harm one was a conviction that carried with it a death sentence. They were the way we traveled, the way we worked and the way we played when it came to racing them. With that in mind back then when your peers compared you to this iconic animal of American history it was an honor and a show of great respect. Back in the mid 1950's when Paul Allen began to work and play in the town of Pleasant Grove, Utah he received such an honor. As a young kid he could always be found across the street helping his dad in the family owned grocery store. Back then delivery meant walking the groceries or cycling them to their destination, and young Paul always had the duty of carrying the load. He shelved the products, cleaned the floors, helped in fixing what was broken and at times even worked the cash register. He was a work horse and had the size and speed to get the job done. So it was not unusual once he fell in love with sports to bring that work ethic to the court, the track and most of all to the football field. By the time Paul Allen was fifteen years old he was 6'1", 170 pounds and by 17 he was running the 100 yard dash in a time of 9.8 seconds. He was solid muscle, with speed and size that few could match in the state of Utah. Indeed in his high school years Paul Allen was the "horse". His love for sports dominated his high school existence. Paul was All-State in Utah as a sophomore, junior and senior in football. And in one of those years his teams won the state championships in football, basketball and track, and he was a significant factor in each sport. As much as sports dominated his high school life it didn't hinder his academic preparation. In 1958 Paul Allen of Pleasant Grove High School was selected as a scholastic high school All-American and accepted a scholarship to Brigham Young University. That same year his high school coach, Hal Mitchell took a job at Utah University and he was tempted to follow. But with Brigham Young University (BYU ) just 4 miles from his home his coach never pressured him to leave. It was an example that taught Paul a lot and Left him with a forever respect for Coach Mitchell. COLLEG CAREER: Paul "The Horse" Allen touched down on the campus of BYU in August of 1958 with a full ride football scholarship. He had all the tools necessary to compete. However during those days coaches were reluctant to throw freshmen into the mix of the college football grind and so Paul mostly watched as the juniors and seniors played out their options. By his sophomore year Paul was playing sparingly but by his junior and senior days he was BYU's go to guy. Those junior and senior years are the years that have brought Paul to the Jet Award. For it is during that time that he became the team's biggest threat, as a return specialist. Paul was the starting halfback in 1960 and 1961. He recalled the biggest difference during his football career to today, was that the players were asked to be versatile and were not specialized in one particular area. He said all the players had an offensive and defensive position and everyone played on the kickoff and punt return teams and that is where Paul "Horse" Allen began to shine. During his years at BYU they never had a winning season but for nearly every game during his junior and senior years their greatest success came when he touched the football on kickoffs and punts. In 1961 Paul averaged an incredible 40.1 years per kick return on 12 returns including three returned for touchdowns. He also returned punts where he scored in that arena also. I asked him why a team that didn't have much success on offense seemed to thrive on kick returns? He attributed it to coach Mitchell, who devised a special kick off play just for him that seemed to work with amazing frequency. Filming and scouting wasn't very prevalent back then, so cleverly planned plays could work for years before the opposition caught up to them. By the time they caught up to what Paul Allen was doing at BYU he was on his way to trying out for the B.C. Lions in Vancouver, Canada. So great were Paul's accomplishments as a return specialist that his average yards per kick return still remains as one of the longest standing records in BYU history. Paul was drafted in the pros by the NFL Minnesota Vikings in 1962 and also by the B.C Lions of the Canadian Football League. There was a tryout bonus in Canada that didn't exist in the NFL, so Paul tried out where the money was. He got a nice car out of the deal but was released by the lions before the start of the '62 season and with that, like the end of the last day of a calendar year, his football career was over.
2013 LEGACY AWARD WINNER PAT FISCHER
Fischer attended Westside High School in Omaha and the University of Nebraska–Lincoln. Fischer joined the NFL as the 17th-round draft choice of St. Louis in the 1961 NFL Draft. He then signed with Washington as a free agent in 1968. He was a 1969 Pro Bowler. In 1972, the Redskins won the NFC championship game of the 1972-73 NFL playoffs against the Dallas Cowboys, when they limited Roger Staubach, their quarterback, to only 9 completions in 20 attempts for 98 passing yards and 3 allowed sacks, Fischer and Mike Bass, the other cornerback, being particularly successful in shutting down their wide receivers. But though the Redskin defense allowed only 69 net passing yards, it could not stop the Miami Dolphins's running game (184 rushing yards) in losing Super Bowl VII. He finished his 17-year career with 56 interceptions, and ranks seventh all- time in Redskins career interceptions with 27 and fourth all-time with 412 career interception return yards. At the time of his retirement, Fischer had played in 213 NFL games, then a record for a cornerback. He was well known for his strong tackling skills despite his diminutive size. Some of Fischer's most memorable defensive match-ups occurred against Philadelphia Eagles receiver Harold Carmichael who stood eleven inches taller than Fischer. Fischer's mantra "get a leg up and you own him" is used today to motivate and teach smaller defensive backs how to defend taller wide receivers. In the late 1980s, NFL Films named Fischer as the Redskins All-Time Neutralizer sponsored by Tums. After retiring from the Redskins, Fischer worked as a stockbroker and owned a successful real estate business.
2012 LEGACY AWARD WINNER BILLY CANNON
Billy Cannon: The 1959 Heisman Trophy WinnerI grew up in Monroe, Louisiana back in the years known as the fabulous 50's. It is during that time in Louisiana that a young man burst onto the athletic scene like none had ever witnessed. He was Billy Cannon. To describe him as legend would be an understatement, as hero for sure. Tough of course, speed indeed, but more than anything else he was a football player. He was mysterious from where we were because we never got to see him, yet worshiped in other places because they did. Billy Cannon December 1959 Today's technology offers a bird's eye view of athletes at anytime, anywhere. However, back then we had to look at the radio and prescribe in our minds what we were not able to see. Think of Ares, Zeus and Apollo. Now think of Billy Cannon, because in 1959 he was like a Greek God in Louisiana, royal, majestic, powerful. The state was divided during those times but there was no separation about the prowess of Billy Cannon. Wherever you stood in life at that time no one could deny, he was the greatest player in the history of the State of Louisiana. I can recall other athletes from Louisiana, great ones. But all names together couldn't climb the popularity mountain created by Billy Cannon. If you didn't know him you wanted to. If you didn't see him you wished you had. If you didn't love him you had to respect him. In Louisiana we loved him, at 6' 1", 215 pounds he ran the 100 yard dash in 9.5 seconds, with cuts! As a junior in 1958, Billy Cannon led LSU to the National Championship defeating Clemson with a pass to the end zone for the games only score. Add to that the fact that he also doubled as a defensive player. That year he was named All-American. However, that quickly became old news. A year passed and trick or treat, it was 1959. Halloween was eerie that year and I will never forget that night. I was 11 years old and we had just returned from collecting our bags of candy. As we sat on the back porch we heard the radio blasting inside. The state had been preparing for a certain football game for more than a year. Now it was here... the #1 LSU Tigers vs. #3 Old Miss Rebels. It was billed "the war for the south", but I remembered thinking it was the most boring game ever. LSU was getting stuffed on every series by the Rebs and as unbelievable as it may seem to today's games Mississippi kept punting on "first" down, yes, first down! This was a confusing strategy to all of us at the time. They would stuff LSU, force a punt, get the ball, then punt it right back to them on 1st down. Mississippi led 3-0 into the 4th quarter and they knew LSU could not penetrate their supreme defense. So they kept punting the ball back to them. Then, all of a sudden legend happened and a Greek tale of Odyssey was scripted into the hearts and minds of Louisiana lovers forever more. If you heard it, you never forgot where you were that Halloween night. If you didn't, when you finally did you wanted to hear it all over again. It was simply known as the run and with it Billy Cannon won everything... All- American again, college player of the year, top ten ranking, this time the prestigious Heisman Trophy and 2 tickets to the pros. For the next 50 years his number 20 would stand as the only LSU jersey ever retired. That night you could see him on the radio and you could hear him in your heart... "89 yards on the return, 7-3 LSU with 10 minutes to go. Ole Miss drives to the two yard line, 4th down, seconds to go, an off tackle smash and Bill Cannon makes the hit". Like I wrote earlier he played defense also. When asked what is legend, what do you say? Well, that answer was easy if you were in Louisiana in 1959. You simply say Billy Cannon. However, in the years that followed, if asked to define Billy Cannon the man, then that answer becomes a little bit harder. He was born William Abb Cannon in Philadelphia, Mississippi on August 2, 1937. In the middle of the World War II era his father found work in Baton Rouge, Louisiana and the family settled in. While his dad found work there, Billy found Istrouma High School where a football legend was created. It was 1952 and Billy was introduced to weight training. A no no back in those days, yet a few special things came out of it for him, like speed, power and endurance. He was a star athlete in football and track, running 9.5 in the 100 yard dash and scoring 39 touchdowns his senior year alone. He was high school All-American, All-State, State Champion and he threw the 16 pound shot putt 54 feet. He hit the campus of LSU in 1956 and by1959 he was the top player in the country. In 1960 he was drafted #1 by both football leagues; the Houston Oilers of the upstart AFL and the legendary Los Angeles Rams in the NFL. Following an intense legal battle it was ruled Houston had the rights. He played four years with the Oilers leading the league in rushing in 1961. He was later traded in 1964 to the Oakland Raiders where Al Davis moved him to tight end. No sweat, in 1967 he made all league at that position too. In his career he gained 2,465 yards rushing, 3,656 receiving and 1,882 on returns. When he was done in the pros he had amassed a total of 8,003 yards and 63 touchdowns. He played in 6 AFC Championship games winning 3 of them, 2 with Houston and 1 with the Raiders. He is one of only 20 players to play all ten years of the AFL's existence. To this day he is still in the record books of the Houston Oilers (Tennessee Titans) for most points in a game (30) and the most TD's in a game (5). A big time football player, Cannon made it large averaging around $100,000.00 per year, a goldmine back then. What a career but then life happened. He was ready when football ended becoming an Orthodontist. He earned a DDS degree from the University of Tennessee and multiple degrees from the University of Loyola of Chicago. Yet for all his preparation and a successful practice, by 1983 he was in financial difficulties. That year he was involved in a counterfeiting scheme and was convicted and sent to prison where he spent 2 1⁄2 years of a 5 year sentence. Stripped of his football hall of fame status, with doubts all around, he remade his life with a constitution that allowed him to be nominated and selected again. Perhaps the only college football hall of famer that has ever been voted in twice. It was a struggle but he regained his dentist license and worked to rebuild his practice. In 1995, no longer the All-American with the movie star looks, there stood another Billy Cannon, being hired as the dentist at the Louisiana State Penitentiary. The place was in shambles as it related to dentistry and medical care in general. But like running through tackles in 1959 he ran through the chaos at the prison and reorganized the program with great success. So much so that the warden placed Billy in charge of the entire medical system. Eighteen years later that reorganization is still working. He's still the resident dentist. You would think after 18 years a man with the title doctor might sometime be referred to in short as doc... no no, not in Louisiana. Even the inmates know, so when they greet him they simply call him "Legend." Today his horses gather most of his attention and while he's watching the horses, his wife Dot of 50 years plus is watching out for him. She's the sugar coated fireball that didn't get up in the middle of the movie and leave when it wasn't so good. Nope, she's sticking around to see the ending because so far it has been a cinematic marvel. As childhood sweethearts, they got together around the same time (1954-55) that a young war hero name Audie Murphy was making a war movie about his life. Since then Billy Cannon has been all-state, All-American, hall of famer, all–pro, national champion and professional champion. I'm told he has survived 4 heart by- pass surgeries and a bout with cancer, and as this writing was in progress, you now can add stroke to the list. He's heard the cheers and listened to the jeers. He's played to as high as 85,000 in a jam packed stadium and as far down as one lone inmate in a dentist chair. He's been a hero and a disappointment, a healer and a savior. And after it all, he too has been saved. He loves his kids, loves his horses and has never seen life without his beloved Dot. Yes, Audie Murphy, an honored American war veteran, made a movie in 1955 about going to war, fighting that war and surviving it. The name of the movie was "To Hell and Back". Billy Cannon has made that journey also... he's been there, done that. His life now is horses. It has been said that horses can't be known they can only be watched with awe. They don't have pasts or futures, they only have the run. In Billy's own words, he said, "I know what it is to be the horse".