CONGRATULATIONS TO
dante pettis
2017 Jet Award Winner! washington huskies
DANTE PETTIS career highlights
Dante Pettis (born October 23, 1995) is an American football wide receiver for the San Francisco 49ers of the NFL. He played college football at Washington.
Early Years
Pettis attended JSerra Catholic High School in San Juan Capistrano, California. He played football, basketball and ran track. As a senior in football, he had 50 receptions for 889 yards and 11 touchdowns. He committed to the University of Washington to play college football.
College career
As a true freshman at Washington in 2014, Pettis played in 13 of 14 games with five starts and had 17 receptions for 259 yards and a touchdown. He also added 288 punt return yards with a touchdown.In 2015, he started eight of 13 games, recording 30 receptions for 414 yards and a touchdown with 271 punt return yards and two touchdowns.As a junior, he started 11 of 14 games, finishing with 53 receptions, 822 yards, 15 receiving touchdowns, 287 punt return yards and two touchdowns.As a senior in 2017 against the Oregon Ducks, he broke the record for most career punt return touchdowns in NCAA history. Pettis garnered consensus All-America honors as a result of being named a first-team All-American by the AFCA, FWAA, Walter Camp Football Foundation, and The Sporting News.
Professional Career
The San Francisco 49ers selected Pettis with the 44th pick in the second round of the 2018 NFL Draft.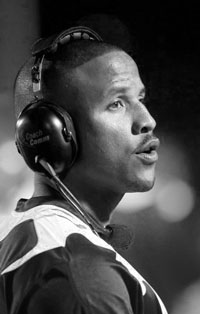 Damon Benning, (Lead Voting Panelist) was a four year letterman who helped lead the Huskers to back-to-back national titles. He finished his career carrying the pigskin 270 times for a total of 1,562 yards. Benning also caught the ball 12 times for a total of 134 yards and returned 32 kickoffs for 770 yards. He finished his Husker career with 2,625 all-purpose yards. Due to his outstanding career, Benning was signed as a free-agent by the Carolina Panthers in 1997. Currently Benning focuses his attention on The Sharp & Benning in the Morning on 1620 The Zone.
THE JET AWARD VOTING SELECTION PROCESS
To be considered for the Jet Award, players must be a Division 1 college football team member and meet the following qualifications:
Be a primary return specialist (Kick or Punt returner) for their team.
Be among the national leaders in return categories
Show leadership, courage, desire, respect for authority and discipline.
The first round of voting should be conducted in late September and early October. From that first round of votes, the list of 12 semifinalists will be created and released at the end of October. The second round of voting will take place in mid-October to form the list of four finalists. A final vote in early December to determine the winner and the decision is announced at the Award Presentation.
Blair Kerkoff KC Star (Midwest) George Schroeder USA Today (Pacific NW)
Cedric Golden Austin American Statesman (Texas)
Bill Doleman Comcast/NBCU (Southwest)
Lisa Horne Fox Sports (Pac-12)
Charles Davis Fox, Sports/NFL Network (National)
Heather Dinich ESPN.com (East Coast/ACC)
Tom Shatel Omaha World Herald (Local)
Adam Rittenberg ESPN.com (Midwest/National)
Bruce Feldman CBS Sports.com (Pac-12/National)
Dennis Dodd CBS Sports.com (Midwest)
Coley Harvey Orlando Sentinel (Florida)
Gerry Dinardo BTN Former Head Coach
(Midwest/National)
Damon Benning Former College FB Player
Johnny Rodgers wil also recieve a vote along with the previous winners
1 Dante Pettis Washington Huskies WR
2 D.J. Reed KSU DB
3 Rashaad Penny San Diego State RB
2017 SEASON JET AWARD WINNER
& RUNNER UPS